Leadflow's New Deal Alerts Increases Your Deal Velocity
Sometimes, closing the deal is about being the first one to the deal.
Leadflow leverages Ai and automation to put you at the front of the line for every deal, every time.
Introducing: Deal Alerts
Deal Alerts is the newest feature from Leadflow, and its goal is to send every deal to your inbox, the instant it hits the market, automatically.
Why Deal Velocity Matters
Being first to the deal used to be about chops and connections. You had to know who was selling, where they were selling, and then you had to quickly move to analyze the market and determine whether or not the property was the right deal for you.
And most investors don't have the resources to drop everything and evaluate a property and the market the second a hot deal comes down the pipe. And the ones that did were usually the ones to scoop up those deals.
Why? Because they were quicker to the deal.
That's where Leadflow comes in. With Deal Alerts, investors now have automatic and instantaneous access to deals that meet their exact deal criteria, so they can hit the ground running and get to the best deals first.
How It Works
For a full run-through on how it works, check out our "Deal Alerts How-To" piece. Just search for properties in a specific area, specify your lead types, (choose from over 20 different types of leads), use list stacking to create a fully customized list of motivated leads that fit exactly what you're looking for, save that search and hit "Deal Alerts".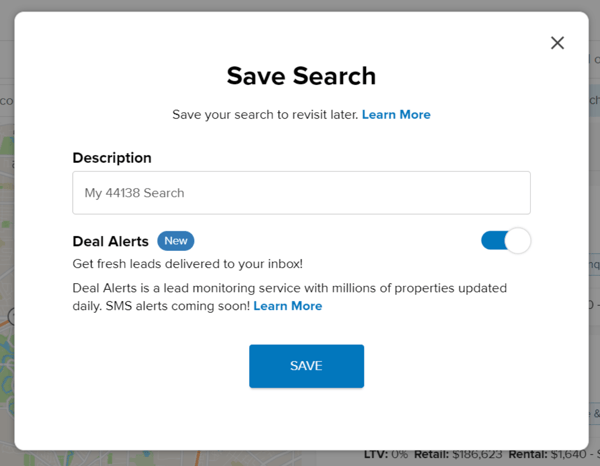 And BAM! You'll now get automated emails every time a new deal that hits your criteria comes on the market. And the best part? You've already done the heavy lifting of honing in on an area and lead type.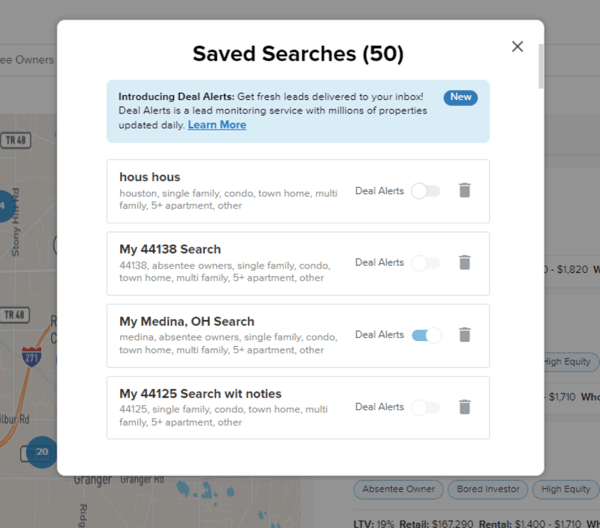 Deal Alerts ensures every single deal that pops up in your inbox is exactly the type of deal you're looking for, which means you can use Leadflow to automatically send reach-out emails to these leads the second they hit the market.
Increase Your Deal Velocity And Hit Their Inbox First
Leadflow is an automated deal machine that's supercharged by Ai. And the best part? Deal Alerts is just one part of Leadflow's Automated Marketing Engine (AME) that we're launching soon.
AME is designed to use machine learning and automation to prospect and automatically put leads into your sales funnel, all without you even having to lift a finger. That's the power of Deal Alerts, that's the power of AME and THAT'S the power of Leadflow.