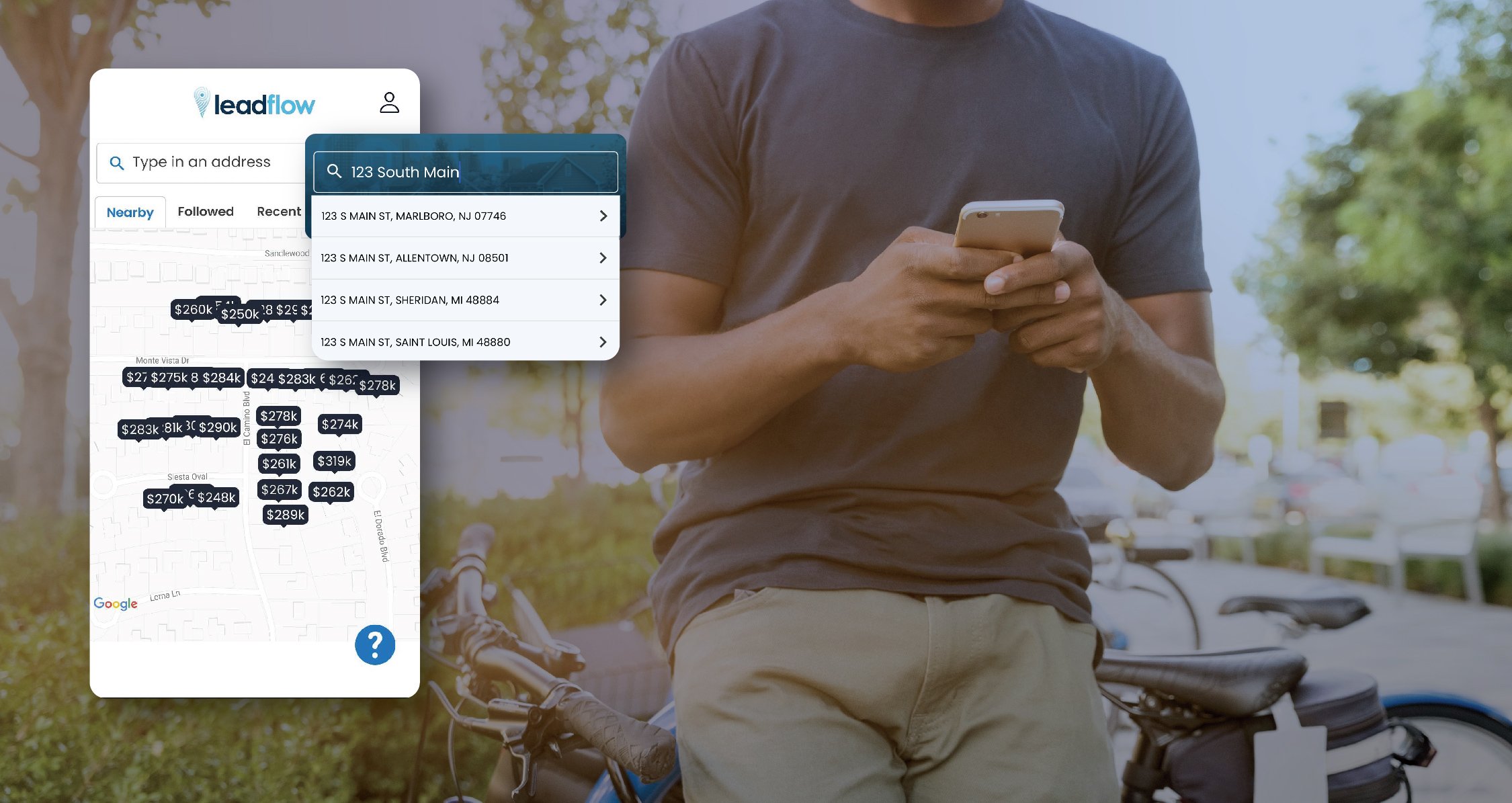 Leadflow's Mobile App Is Here!
The Leadflow mobile app is here, and it's BIG. We jam packed it with more power, more technology, and more data than any other app on the market - all driven by our proprietary algorithm and artificial intelligence.
It puts the power of investing right into your hands - anywhere you go.
What does the new Leadflow app do? More like what doesn't it do?
---
Find On & Off-Market Properties
Leadflow is powered by Ai - and it's the same engine that drives our new app.
Leadflow's Ai analyzes billions of data points to find the best deals both on and off the market. Because when you can find properties that nobody else can, you can close deals nobody else can.
---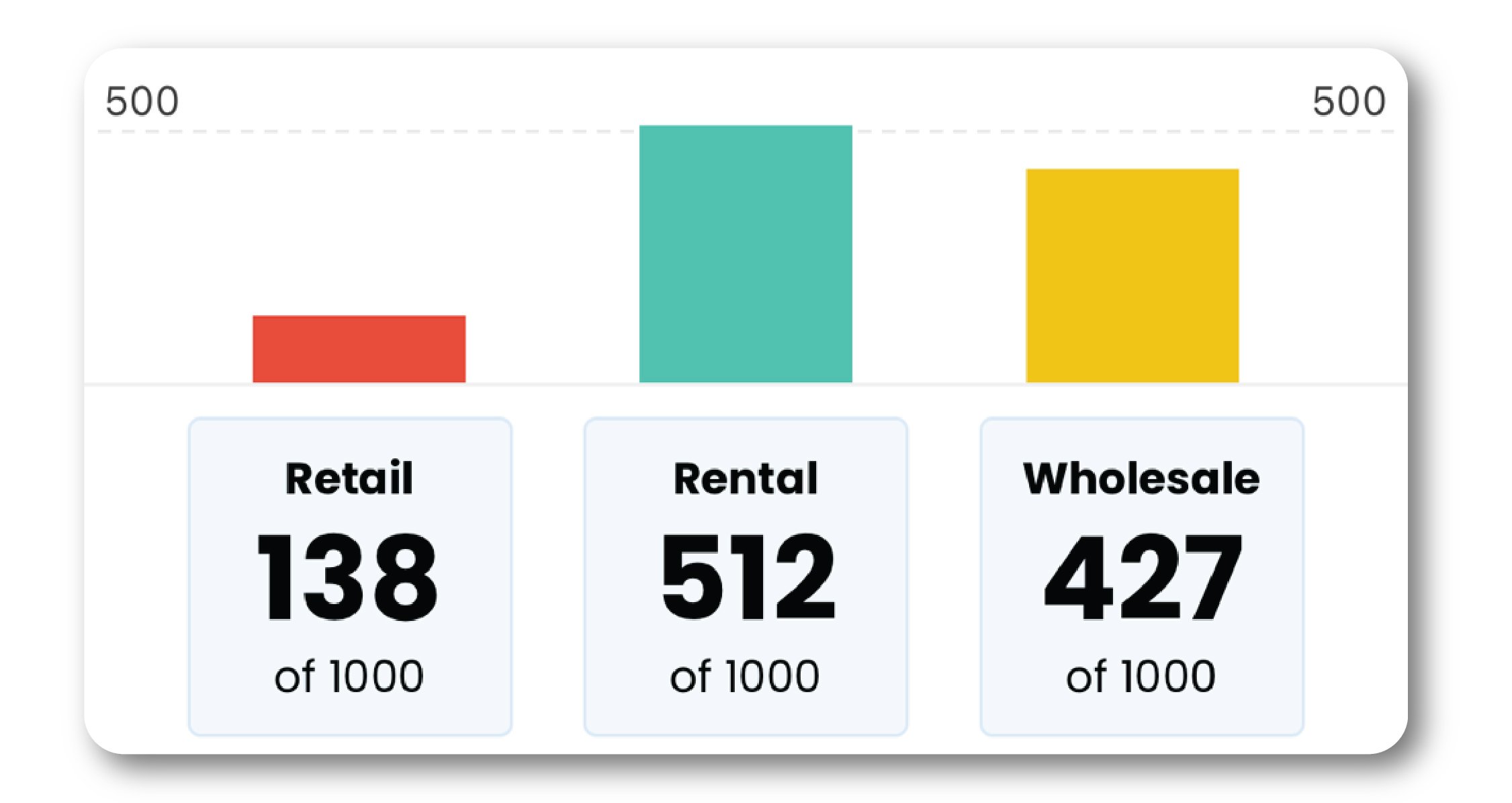 Analyze Properties
Finding a property is really only part of the battle. You've got to know the market that property is in. Should you flip this property, or does the area's rental outlook make that the better option?
Leadflow's mobile app gives every residential property 3 scores from 1-1000 for the following;
Retail

- The higher the score, the more likely your target property is to sell in the next 90 days (which makes it ideal for brokers and real estate agents).



Rental

- A higher rental score shows the property is highly "rentable", and is an ideal choice for landlords who want to add to their portfolio.



Wholesale

- A higher score indicates the likelihood that your target property is willing to sell at a discount, making it ideal for wholesalers and flippers.



---
Leadflow Insights
You may know the property owners are looking to sell - but do you know why?
Leadflow does. Our mobile app gives you 18 different Leadflow Types that help you tailor your outreach to the property owner's specific wants and needs. Leadflow Types include;
Absentee Owner:

Property owners who do not live in the property.

Cash Buyer:

Owners who have likely paid cash for their property.

Recently Delinquent: Property with tax delinquency noted in the past 36 months.
Free and Clear: O

wned without any mortgage and are thus 'Free & Clear' of any debt.



High Equity: O

wned with a mortgage on the property and the loan-to-value is less than 60%.

Low Equity: O

wned with a mortgage on the property and the loan-to-value is greater than 80%.

Upside Down: O

wned with a mortgage on the property and the loan-to-value is greater than 100%.

Active Listing:

An active 'For Sale' property listing on the MLS.

Bored Investors:

Absentee Owners who have owned the subject property for a long period of time.

Flipped: Bought and sold within the last 2 years.
Foreclosures:

These properties have gone through the foreclosure process in their state and have been foreclosed on.

Foreclosure Activity: Properties that may go through the foreclosure process, but may not have entered or completed the foreclosure process yet.
Lien History: A property that has any type of lien associated with it.
Long-term Owners:

The same party who has occupied the house for the past 25 years is the owner of the property.

Potentially Inherited: P

roperties have been identified as properties that were potentially inherited either from parents-to-children or from spouse-to-spouse. The properties in this lead type are not guaranteed to be inherited, but show the characteristics of being so.

Pre-foreclosures: G

oing through the foreclosure process, but have not yet completed the process.

Vacant Properties: T

here is no one living at the property address.

Zombie Properties: I

n the pre-foreclosure process and are also vacant.



---
Property Details
The Leadflow mobile app is designed to save you time. When you find your target property, you don't need to spend time searching for your target property's details like square footage, lot size, year built, number of bedrooms and bathrooms.
It's already in the app.
Plus - the Leadflow mobile app gives you even deeper insights into properties with professional-level data like;
Heating method

Flooring material

Garage type (with # of parking spaces in garage)

Parcel number

Mortgage amount w/ estimated balance remaining

Estimated equity

Market value

Owner type

And much more…
---
Runs Property Comps
Comps show you what similar properties have sold for and when. This is especially helpful when you're trying to determine how much you should purchase a property for and at what price you can potentially sell it at after you've completed the rehab process, or even in its current state.

Leadflow's mobile app enables you to run real estate comparables right from your phone and even shows you which properties sold for cash or as rentals.
But like every real estate investor knows, running comps can be complicated, with many layers.
That's why our app breaks down comps even further, into;
Rental Sales

: The number of nearby, similar properties that recently sold, that are now being rented out.

Cash Sales

: The number of nearby, similar properties that recently sold for cash.
---

Real Estate Marketing & Outreach
There are no deals without leads, and there are no leads without contacting those leads. Leadflow's mobile app packs the power of Leadflow's real estate marketing tool suite in the palm of your hand. This includes;
Powerful

real estate skip tracing tools

Targeted direct mail marketing tools that let you send postcards to leads

The ability to call property owners directly from the app (when available)
---
The future of real estate investing is here - and Leadflow puts it into your hands with our new mobile app. And the best part? It's free! Download the app below and see for yourself how you can use it to start or scale your investing business!